National Residential – Online Bidding & Buying Process Explained
National Residential brings efficiency and enjoyment into buying a property through our unbeatable combination of outstanding online-bidding technology along with the personal touch provided by our local estate agency network.
With National Residential you can bid on a property 24 hours a day from the comfort of your PC, iPad, Tablet or Smartphone. We use the very latest Online and SMS (Text Messaging) technology to enable buyers to monitor properties, place bids, arrange viewings, ask questions, and to keep buyers constantly informed of the current bids and the 'Best and Final' end dates for online bidding.
Unlike other faceless online-agents, we also provide that all-important personal contact through our local estate agency network. We work with the very best local estate agents to carry out viewings and to assist buyers making offers on our properties. This provides buyers with the personal contact of an experienced local estate agent to help them through the bidding and buying process.
Buyers simply have to register to bid with ourselves or with our local agent, view properties in the normal way, and then thoroughly enjoy the experience of buying with National Residential.

How it works
We are instructed by vendors to sell their properties for the best price possible within just 28 days. Buyers must be chain-free and have either mortgage or cash funds to complete within 56 days.
Before you are able to bid you need to register with ourselves for online bidding (unless you prefer to register and bid through one of our local estate agent partners).
Successful buyers are required to pay a small holding deposit of 1% (minimum £1000) of the purchase price to secure a property. We therefore strongly advise that you carry out market research and due diligence on any property before you bid.
Our experienced sales team and local estate agents will help answer any questions you may have.
See also: Online Bidding Terms & Conditions
Register with ease
You've seen a National Residential property online and you're eager to view and bid for it, so your first step is to simply register with our online bidding system.
You can do this by placing a bid on a specific property online. We ask for your name and mobile number so that we can text a code to your mobile. Simply enter this code online to confirm your bid and to confirm that you are a legitimate buyer.
If you do not have a mobile number, or if you prefer to speak with us personally, you can also call us on 01244 757152and register with our sales team.
Arrange a viewing
Once you have completed your registration process, you are allocated to the property you are interested in buying and are now able to book a viewing. We instruct local estate agents to help us conduct viewings, mainly through open days held during the week and at weekends, and you will be invited to attend one of these.
Confirmation of your viewing appointment will be sent to you by SMS text.
Your first bid
After you have viewed a property you are able to make your first bid. You can place your bid by any one of the following methods you prefer:
Via our website
On your Smartphone (you will be text a link to a personal mobile bidding page)
Call our sales team on 01244 757152
Email your bid to sales@national-residential.co.uk
Make your offer through our local estate agent partner
If you bid online, you will be sent confirmation of your bid by SMS text. You will also be notified if you have been outbid and will be able to monitor other bids or increase your bid at any time online. You can now bid whenever you want, wherever you want, and as much as you want.
The online bidding process
The duration of the online bidding is usually 28 days but can be shorter or longer. We run the online bidding until we are sure we have achieved best bid price for the seller. Sellers may reject the highest bid at the end of online bidding if it does not achieve their 'Reserve Price'*. Sellers may also choose to accept a good offer and end the online bidding early.
All properties are listed at attractive 'Offers Over' guide prices*. It's important to note that this is a starting guide to generate interest and not the price the vendor is expecting to sell for. The seller will have notified us of their minimum 'Reserve Price' and we always intend to sell for the highest price possible through the online bidding time-frame.
You will be updated regularly of current highest bids throughout the online bidding by SMS messaging.
We send automatic notifications of the current highest bids on days 14, 21 and 27 and at 8.00 pm on the final day of online bidding.
If you have made a bid, you will also be sent an SMS if you have been outbid.
We endeavor to ensure ALL buyers are fully informed of bids throughonourut the online bidding process and have the fullest opportunity to buy any property.
Bidding on a property
When bidding on a property online you must increase the highest bid by the minimum bid increment (see table below). Simply place a higher 'Maximum Bid' online your bid will automatically increase by the minimum bid increment up to your maximum bid so that you remain the highest bidder.
You are able to place a smaller bid increment of a minimum of £250 if bidding by phone.
Please note that sometimes properties can be taken off market earlier when buyers make a significant offer earlier in the online bidding process that the seller is willing to accept.
You can bid online, with your smart phone or by calling us on 01244 757152.
See also: Online Bidding Terms & Conditions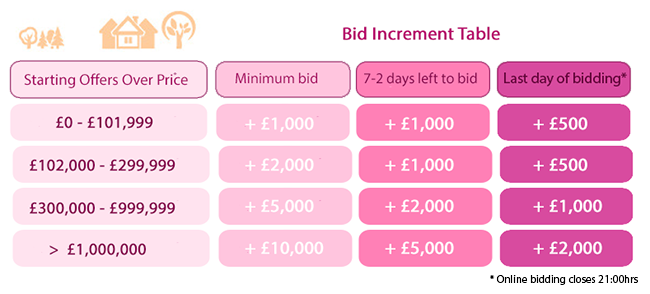 The end of online bidding and the qualification process
Online bidding finishes at 9.00 pm on the Best and Final date and all buyers will be sent SMS notifications of the current highest bid 1 hour prior, at 8.00 pm.
If we receive 2 or more bids in the final 10 minutes, online bidding will be extended by multiples of 10 minutes until we receive no further bids in a 10 minute period. Online bidding will then stop.
When the online bidding has ended we send an SMS to the highest bidder requesting that they call the office the following morning so that we can qualify their bid. We also send an SMS text to the 'losing' bidders advising them of the amount of the highest bid.
Our local estate agent partners will contact us the following morning with their bids.
Therefore, although online bidding has ended, all buyers have a very short window to contact us to increase their bid while we are in this process of gathering all final bids and qualifying buyers. We allow this time so that we can obtain the highest price for the seller and because some buyers withdraw their bids because they are unwilling to pay a Holding Deposit. It is necessary that we have a back up from other buyers should this happen.
Further bids can only be taken by phone at this stage. Although the qualification process usually takes just 24 hours to conclude, it can sometimes take up to a week as buyers may delay paying their deposits and problems may sometimes arise when financially qualifying buyers.
Additionally, a seller may also choose a lower cash offer over a higher mortgage offer because certainty of sale is more important to them than a higher price. It is therefore necessary to obtain the highest mortgage offer and the highest cash offer to present to the seller.
The online bidding process is formally ended once we are sure we have the highest bid, the seller has accepted this bid, and the winning buyer has paid their deposit and has passed the financial qualification process with our sales team.
Successful bids and agreeing sales
The successful buyer is required to pay a small holding deposit (£1,000 or 1% of purchase price) and sign a Purchasers Agreement to secure their sale and for the property to be taken off market. This deposit is not an additional cost but is deducted from the purchase price, and forms part of the buyer's overall deposit. It is paid to the seller's solicitor on completion.
The deposit is fully refunded should the seller withdraw from the sale. However, buyers risk losing their deposit if they withdraw from the sale or try to reduce their purchase price before completion.
A significant benefit for buyers paying this small holding deposit is that properties are immediately removed from market dramatically reducing the risk of buyers being gazumped. Over 95% of our agreed sales complete because we take this deposit and because sellers very rarely pull out.
Sales progression and completion timescales
We are a fast sale estate agency and pride ourselves on achieving sales in 28 days and completions within 56 days.
Once we have received a Holding Deposit and Purchasers Agreement from the successful buyer, our expert sales progression team drives through completions quickly and in the 56 day time scale.
We offer panel solicitors and mortgage brokers who act quickly and who are able to complete in these timescales. There is no obligation to use our panel solicitors or brokers but if you do, we are able to more easily manage the whole sale process quickly and efficiently.
Our panel solicitors and brokers will also price match any quote that you may already have so you get all the benefits at no extra cost.
Our sales progression team are highly experienced and motivated to drive through completions quickly. You never know what unforeseen obstacles might arise during the completions process but please be reassured that we are on hand to resolve all issues as quickly as possible and to help you every step of the way.