We buy or sell your house quickly and for the best possible price!
House selling process – All our clients come to us with very different requirements for selling their home or property. No two situations are the same and as such we believe it's important we take the time and care to listen to your situation, understand your needs, and find the best solution for you.
The one thing that our clients do have in common is that the problems they are looking to solve also require a quick, certain sale for their property, and for the best price possible.
At National Residential we are able to help clients achieve the fast sales they require by either buying their property quickly for cash through our 'Home Purchase Fund" or by helping them sell for 100% market value in 28 days.
Simply decide if you want to SELL YOUR PROPERTY in the FASTEST TIME or for the BEST PRICE.

Free Valuation

One of our valuation experts will take the details of the condition of your property and will establish the realistic selling price for your property. If you are happy with this price we will arrange for one of our experienced consultants to visit you at your property to confirm this price is achievable.Our consultant will make you a cash offer through our 'Home Purchase Fund' and will also advise you of the realistic 100% market price & service.
---
7 Day
Cash Purchase Offer

If you require a quick cash sale and agree to the initial price offered by our consultant, our next step is to confirm the resale valuation with our local agent and subsequently confirm our final cash offer with you. Should you accept our cash offer you can have your cash within 7 days or a timescale to suit you.
---
100% Market Value
in 28 Days

If you require the best price possible and have time to wait about 8 weeks for completion, then you might prefer our 100% market value service. We use the most proactive and extensive marketing strategies and the very latest online bidding technologies to obtain the best price possible in just 28 days from chain-free buyers.
---
Fast Completions
and Amazing
Customer Service

We work with the best solicitors and brokers to ensure that our sellers and buyers complete in the fast timescales required.When we buy for cash through our 'Home Purchase Fund' we will complete in a timescale to suit you – guaranteed.When we sell to buyers for 100% market value in 28 days, we only sell to buyers who are chain-free and have proven funds to complete quickly. Over 95% of our agreed sales complete in comparison to 30% of sales falling through with local agents.
Our job is to squeeze the very best prices from buyers for your property. Our fantastic sales negotiators will get you the best price & quickest sale possible and ONLY accept offers from chain-free and cash-rich buyers who use our 'Accelerated Purchasing Scheme.'

All our buyers will be expected to have proven funds to complete their purchases before we accept their offer for your property. If their offer is to be accepted, we will put in measures to ensure there are no surprises along the way.
By agreeing to our 'Accelerated Purchasing Scheme,' buyers are committing to complete within 28 days (if buying cash) orwithin 2 weeks of their mortgages being offered.
We also lock buyers down so they cannot reduce their offers or pull out of the sale just before completion.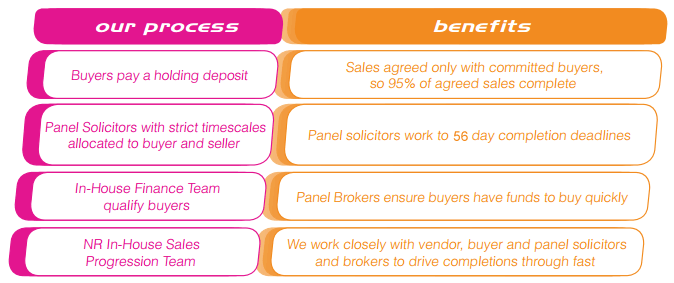 We Manage Conveyance Solicitors to Ensure a Fast Completion
We instruct the solicitors, and ensure that we manage both buyers and sellers, to get the quickest completions in the timescales required by the seller.
You will help by being quick to return the paperwork requested by your solicitor, but our expert team will hand-hold you through every step to ensure the fastest completion timescales you require.